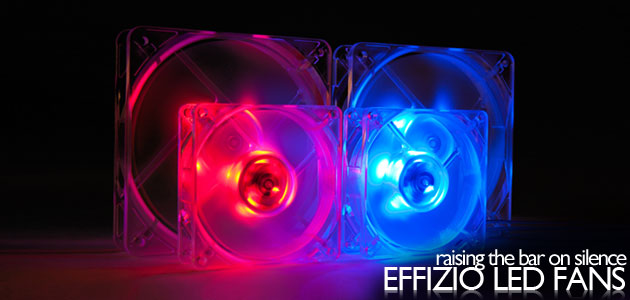 Effizio series quiet LED fans
Just when you thought we would stop with the Effizio series quiet fans, we went on and added some lights to create the Effizio series quiet LED fans. All the great attributes of the Effizio quiet fans are there; the reduced motor size, increase fan blade surface, lower lateral surface area on the motor vanes along with silicon-composite fan mounts, but now with the ability to light up your system. Who said silence and performance can't be had without some bling?

htpc cabinet cooling system now available

The first and best complete solution for cooling down cabinets with 120x38mm fans, the IXA-CCS is ideal for those looking to do just that with a professional finish. Used by several electronics cabinet manufacturers and professional AV installation companies, the IXA-CCS gives everybody a quick and easy option of installing fans to your cabinets with a simple kit. Fans come with a simple, clean DC barrel connector to make plugging in a snap, no need for messy molex connectors.

new effizio quiet fans with 3G FDBs

Want the quietest, most reliable fans on the market? Now you can get the Effizio Quiet Fans with Japanese-made fluid dynamic bearings for long lasting performance at the same low noise levels we feature on all our products. In addition, our fans are the first fans on the market using Dow's polycarbonate for the fan frame and fan blades for lightweight and durable construction. All Effizio Quiet Fans come with a three year warranty.