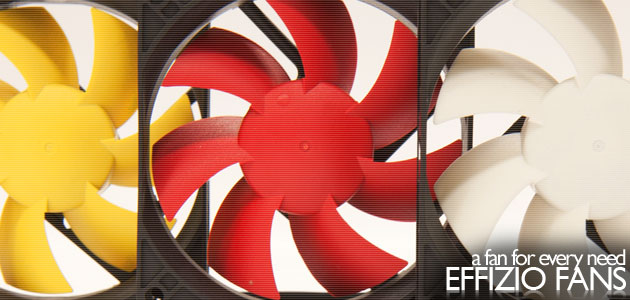 Effizio series quiet fans
After years of development, we've created a new line of fans that offer greater performance at attractive prices, the new Effizio series. Following the success of the iXtrema series, we've gone back to the drawing boards to create a silent fan that offers better reliability and less motor vibration. The new standard in airflow-to-noise ratio, Effizio fans are among the only fans in the industry to be designed with silence and optimal airflow. Now with third generation fluid dynamic bearings, Effizio series fans will keep your system cool for years to come, with a standard three year warranty for all models. Available in 80mm, 92mm, 100mm, 120mm and 140mm fan sizes, Effizio series fans offer the widest range of quiet fans on the market today.

htpc cabinet cooling system now available

The first and best complete solution for cooling down cabinets with 120x38mm fans, the IXA-CCS is ideal for those looking to do just that with a professional finish. Used by several electronics cabinet manufacturers and professional AV installation companies, the IXA-CCS gives everybody a quick and easy option of installing fans to your cabinets with a simple kit. Fans come with a simple, clean DC barrel connector to make plugging in a snap, no need for messy molex connectors.

new effizio quiet fans with 3G FDBs

Want the quietest, most reliable fans on the market? Now you can get the Effizio Quiet Fans with Japanese-made fluid dynamic bearings for long lasting performance at the same low noise levels we feature on all our products. In addition, our fans are the first fans on the market using Dow's polycarbonate for the fan frame and fan blades for lightweight and durable construction. All Effizio Quiet Fans come with a three year warranty.