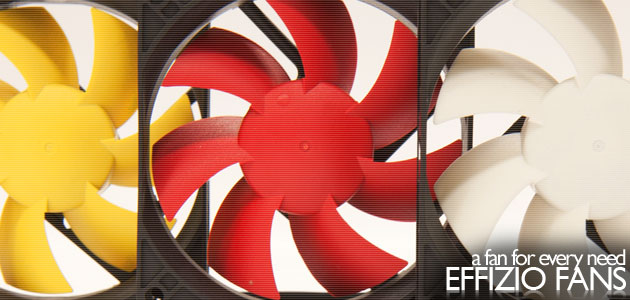 a new standard in efficiency
After years of development, we've created a new line of fans that offer greater performance at attractive prices, the new Effizio series. Following the success of the iXtrema series, we've gone back to the drawing boards to create a silent fan that offers better reliability and less motor vibration. The new standard in airflow-to-noise ratio, Effizio fans are among the only fans in the industry to be designed with silence and optimal airflow.

Now with third generation fluid dynamic bearings, Effizio series fans will keep your system cool for years to come, with a standard three year warranty for all models. Available in 80mm, 92mm, 100mm, 120mm and 140mm fan sizes, Effizio series fans offer the widest range of quiet fans on the market today.

Fans are available in numerous sizes and it might be difficult for you to choose with the plethora of options out there. Fan sizes are measured along the edge of the fan, not diagonally. If you're simply swapping out an existing fan, just measure the fan size of the fan you have installed and get one of our fans of the same size. If not, simply measure along the sides of the space you'll be installing the fan and choose the fan size closest to those dimensions, or look below to see which one best fits your application.

40mm

40mm fans are most commonly used for cooling hard drives and 1U rackmount PCs as they are designed to fit within 5.25" drive bays. They are also used commonly in various consumer electronics due to its small size.

60mm

60mm fans are used as case fans on smaller cases and for heatsinks with processors that use less power. Often times they are used for HTPC cases with slimmer profiles.

80mm

80mm fans are the most common fans for use with computers. They are useful in a variety of situations, including use as a standard case fan or for use on CPU coolers and various A/V equipment and electronics.

EFX-08-12
12dBA 25CFM

EFX-08-15
15dBA 32CFM

EFX-08-15T
<15dBA <32CFM
Temperature Controlled
EFX-08-15B
15dBA 32CFM
Blue LEDs
EFX-08-15R
15dBA 32CFM
Red LEDs

IXP-52-11
11dBA 18CFM
Slim 15mm Depth
IXP-52-14
14dBA 24CFM
Slim 15mm Depth
92mm

92mm fans are also used as case fans and heatsinks, though they are not as commonly used as their smaller or larger brethren.

100mm

100mm fans are designed to fit in most applications where a standard 92mm fan would fit, it includes mounting holes that are compatible with a 92mm fan. Just be sure to have the additional 4mm of clearance on all four sides for it to fit as they are still physically larger than a 92mm fan.

120mm

120mm fans are becoming more commonplace in larger systems with high power demands. Used on larger cases or on heatsinks with very hot processors.

EFX-12-12
12dBA 44CFM

EFX-12-15
15dBA 74CFM

EFX-12-15T
<15dBA <74CFM
Temperature Controlled
EFX-12-15B
15dBA 74CFM
Blue LEDs
EFX-12-15R
15dBA 74CFM
Red LEDs

IXP-76-14
14dBA 72CFM
38mm Deep
IXP-76-18
18dBA 90CFM
38mm Deep
140mm

140mm fans move the most air and as such, they are used in systems that have very high power demands. Used only on the largest cases and heatsinks that have the space to accommodate such fans.

the silenx advantage
| | |
| --- | --- |
| | The combination of an advanced swept-forward fan blade design, reduced motor size and conical hub allows for more air to be pushed per revolution, resulting in less noise and greater airflow. Competing fans have a flat cylindrical hub and improper fan blade geometry which creates a large dead-spot in degards to air movement and impedes airflow. |
| | Offers long-life and reduced noise as it dampens vibration from the motor itself and from external sources. It's the very reason all PC hard-drive makers have also made the switch to fluid dynamic bearings from other bearing types. Japanese bearings from a world leader with years of expertise in bearing technology for long life and durability. |
| | Silicone-composite fan mounts and a stronger formulation of polycarbonate was utilized to minimize flex and reduce vibration resonance with your chassis. These features combined with the vibration dampening aspects of fluid dynamic bearings and optimized fan blades ensure the little details were never left out to make the best fan possible. |